Say Goodbye To Messy Cables

ORGANIZE
Take your home office, entertainment center, or gaming station organization to the next
level.

UNTANGLE
We all know how annoying tangled wires can be. With Wire Wonder, you can keep them all separated and prevent them from ever getting tangled in the first place.

CUSTOMIZE
Wire Wonder's adjustable cable-management pegs allow you to create the perfect individualized
solution to any cable mess.
Superior Cable Management
Check out this time-lapse video of Wire Wonder in action.
Adjustable Pegs
Wire Wonder's unique cable-management pegs can be quickly and easily placed and removed as needed to create the perfect solution to any cable mess and prevent unnecessary slack in your cables. These pegs are sturdy enough to be pulled on by the cables without breaking and can even be used to create shelves and supports for your surge protectors and power bricks.
Prevents Tangling
We all know how wires tend to magically tangle themselves up over time. Wire Wonder prevents this by holding your cables securely in whatever position you place them in. This allows you to easily open it up at a later time and remove whichever cable you need without having to spend 20 minutes unplugging and untangling other wires.
Mountable
Wire Wonder can be optionally mounted to a wall, desk, or other flat surface so that you can keep cables off the floor and out of sight. You can even mount it directly over a wall outlet so that your surge protector can be plugged into the wall from within the enclosure, resulting in maximum tidiness. For more information, see the installation instructions here.
Aesthetic
Designed with aesthetics in mind, Wire Wonder can be easily hidden behind a desk or TV stand, and will blend into it's environment when hiding it is not an option. You can even paint it if you want to have it match the color of the wall you are mounting it to. Either way, this is guaranteed to look better than the tangled mess of cables that plagues your home or office.
Suggested Use
Wire Wonder is a cable management solution designed to adapt to a multitude of applications; under your desk, behind your TV stand, in your office, or anywhere you have an unsightly tangled mess of cables. Wire Wonder is the only solution that can be customized to fit your own individual needs.
Compatability
- Wire Wonder can be used to organize and hide cables, cords, wires, power strips, surge protectors, power-adapters, wall-warts, modems, routers, small electronics, and more!
- Wire Wonder can be left standing on the floor, mounted to the wall over a power outlet, or mounted to a desk or other flat surface.
Technical Specs
Dimensions: 13.5" x 13.5" x 3.75" (343mm x 343mm x 95mm)
Weight: 2.5lb (1.14 kg)
Material: High-density flame-retardant PC/ABS Plastic
Colors: White or Black(Coming Soon)
Installation: Mount to a wall, desk, or other flat surface (Optional)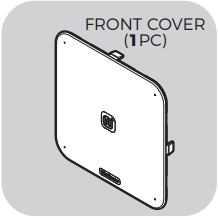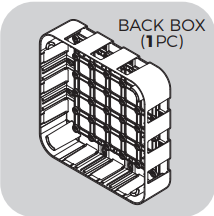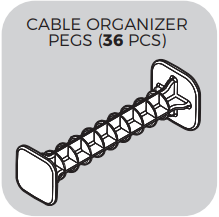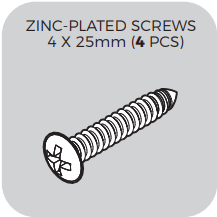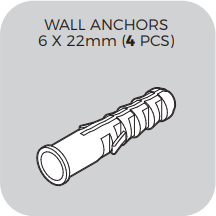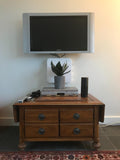 "Very happy with the result"
Installing it only took about 15 minutes and i'm very happy with the result. I can barely see the cables any more and I'll be able to hide them completely when I get a bigger tv. The pegs are really easy to move around so you can take up just the right amount of cable to prevent any extra slack.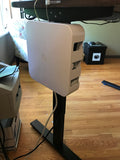 Scott Thompson
United States
"So much better"
I mounted it to the leg of my standing desk and everything looks so much better. I don't have wires everywhere anymore and the openings on the sides allow my wires to move enough when I move the desk up and down!
Ready to tame your cables?
Free shipping on all orders to the US and Canada!
Wire Wonder is designed to organize and conceal the unsightly cable clutter that plagues our homes and offices, and because no two cable messes are the same, it can be can be customized to meet the...
Is a power strip included?
No. WIre Wonder is designed to work with most power strips and surge protectors. If you do need a power strip, we recommend this one from Belkin.
Is it ventilated?
Yes. There is not a fan, but there are three very large openings on each side of the enclosure and 25 openings on the back to ensure air is always flowing through to keep your cables and power adaptors cool.
Is it flame retardant?
Yes. Wire Wonder is made from high-density flame retardant PC/ABS plastic.
How strong are the adjustable pegs?
The adjustable cable management pegs are designed to bend as needed and can withstand a large amount of force without breaking.
How can it be mounted over a wall outlet?
The back side of Wire Wonder has a slight indent and 25 openings perfectly spaced for most wall outlets so you can mount it on the wall over the outlet without having to remove the wall plate and plug a power strip or other device into the wall from within the enclosure.